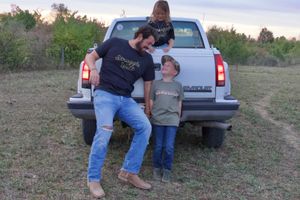 Jesus isn't taking the wheel, and there is no specific purpose for your life and that's a great thing.  Here's why,  We are Created in God's image.  (Genesis 1:29) If you believe that, lets move to level two.  He is God the father.  The previous two statements wont find much push back from Christians.  Let's apply a little pythagorean logic to the matter. If He created us in his image, and He is the father then it's worth noticing our own instincts to parenting.  Ask yourself this. Do you have an itemized plan in place for your child's entire life? Who they will marry, what job they work, where they live? NO YOU DON'T. 
All we want for our kids is to be fully alive.  That's IT! So why do we think God the father wants any different.  I heard Donald Miller give a talk and he said "What if God was just sitting at the kitchen table with us while he rolled out some butcher paper and handed us some markers and said "let's make something together.  Much like us, I don't think God wants specificity from us, as much as he wants to be included. Your mom wants you to have the wedding of your dreams. She'd be flattered if you asked her to help pick out the dress.  God the father feels the same way. 
Enough with this "I just want to find God's purpose for my life" nonsense.  The love of God is not an algorithm to be unlocked. I've paralyzed myself and made things way too complicated trying to force this philosophy on the happenings of real life.  We want our pain to have a reason to it. If somehow if we can make sense of it maybe it will hurt less. It won't and everything does not happen for a reason for our specific life plan.  We live in a broken world, and sometimes broken things happen. He gave us the gift of free will. If He stepped in and stopped our bad decisions we wouldn't really be free to choose. Otherwise he would have stopped eve from biting the apple.  Stop telling your friend diagnosed with cancer, everything happens for a reason. Or you're unemployed buddy that God is testing him. Yes we can learn from terrible things. We can grow from setbacks, but stop saying God did it. He plans no evil.  God created a world of free will and it has made our home beautiful and awful. 
So 31 years deep into some really good times and some really dark ones too, Ive come to this conclusion. 
1. Do what lights you up!  What do you love to do? Now test that against what we know to be the things that please the Father.  If they arent in opposition of each other, go get em mean boy. 2. The things you feel passionate about are a gift to your heart.  Find a way to connect what you love to do to the help you can give the people in front of you. 
3. Treat people well, thank God while you do it, and stop being surprised when bad things happen.  They will, and great things will also, over and over as long as we are on this side of heaven. Choose the best form of struggle for you and go do it well 
Struggle Well Friends