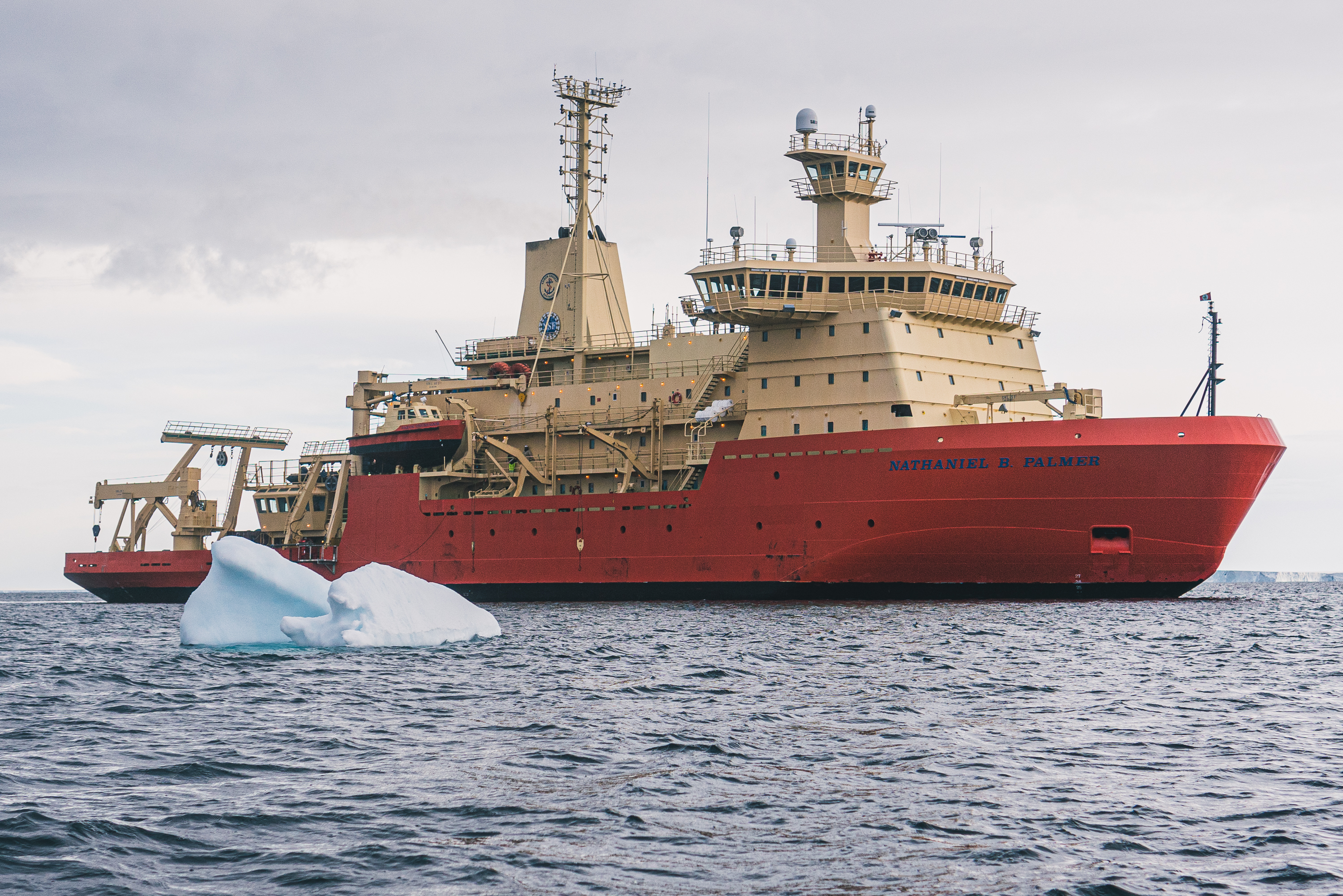 BY PETER KAPLE
What can a 308' Icebreaker and Antarctica teach you about life?  
Short Answer - A Lot 
Lesson from the Ice - Master Your Tools  
My icebreaker and my home for the last 7 years has been the RVIB Nathaniel B. Palmer. She was built by North American Shipyard in LaRose, Louisiana in 1992. She has a length of 308', beam of 30', and draft of 23'. She draws power from four Caterpillar 3608 engines for a combined horsepower of 13,200. The engines are split between two shafts, and at the end of the shafts are controllable pitch propellers. The American Bureau of Shipping classifies the Palmer as an A2 icebreaker. This means she is capable of breaking ice that is 3 feet thick while moving continuously at 3 knots. 
She is not the biggest icebreaker. She is not the most powerful icebreaker. She was not built to be either of those things. She was built to do scientific research in the ice and she is damn good at it. Controllable pitch propellers and big rudders make her very maneuverable, allowing her to maneuver around ice much quicker than a larger vessel. 
The truth surrounding her abilities is simple, and while she does have her limits, she is only as capable as the mariner at the helm. On top of needing to have a comprehensive knowledge of sea ice, a mariner manuevering in the ice must have an intimate understanding of how the vessel operates. You have to understand how she will react to every adjustment of the controls. Essentially, this 308-foot icebreaker must become an extension of you. Once this happens, even her limits can be used to your advantage.  
With an ever changing landscape of sea ice, it can take years to master control of the ship. There are some situations that rarely occur, so learning how the ship reacts to different ones takes time. There are also so many aspects to icebreaking that it's hard to quickly master a single scenario . Every trip to the ice I feel I learn a bit more about what the Nathaniel B. Palmer is capable of handling. I might see a situation for the first time or finally master an old one. I will always have more to learn. While I gain mastery, I must remain a student. 
The RVIB Nathaniel B. Palmer is a tool, albeit a complex tool in a complex environment, but in the end, she is just a tool. The skills and knowledge of how best to use that tool take time. We too often pick up a new tool, whether a saw or a fly rod or camera, use it a few times without producing the results we see on social media, decide we got the wrong one, and walk away from that pursuit entirely.  
We idolize guides and professionals, and quickly chalk up their abilities to the tools they use, not the mastery they have of them. We see the ease in which these idols wield their tools and decide that we too can do things with the same ease. That we don't need to practice or continue to learn. We expect everything to come naturally, and then we quit the first time things become a challenge. 
Every time you pick up a new tool, you must realize that you will fail, learning to use it will be difficult, and it will take a lot longer to master than you would like. Failure is only truly failure if you don't take the time to learn from it and then apply what you learn to become better. If learning something was easy, then would you really want to pursue it? As for how long it takes to master something, the best part is the journey to mastery and all the lessons along the way. Learn to struggle well and in time you will master your tools.