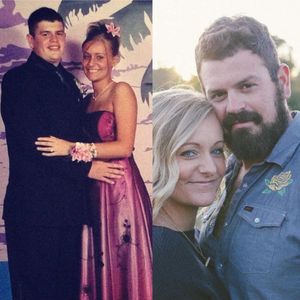 QUARANTINE TUTORIAL: 30 DAYS WITH A WIFE OF 10 YEARS, HAS BEEN ANYTHING BUT FAMILIAR 
Familiarity breeds contempt. It's a simple truth that lately I've had my nose rubbed in. No, more than rubbed, more like waterboarded by. My nose has been scraped off by the fact that the more we are around someone the more fault we find in them. No surprise here. Ole Benny Franklin knew fish and company stunk in three days. Wonder how he thought spouses smelled after a decade? 
That cute quirky way the love of your life chews gum, or hold a taco shell, is now an intolerable act of terrorism. Adjusting the thermostat is cold war and your children are a bridge of spies. How did we get here? How did we go from "you hang up first" to hiding in the bathroom from each other. Two kids, 10 moves 5 states, so much time, so much proximity. But 11 years later, she's anything but familiar. There's a stranger in my bed. I think there is anyway, I went to bed early and she went to watch Big Little Lies . 
Is it possible to know someone so well, we forget to keep getting to know them? Love guru(ish) I know but hear me out. Those 10 moves, those 5 states, those babies, those hirings and firings. They did something to me. They formed new grooves in the ravines of my mind, smoothed over like cavern walls products of wind, water and time. I'm not the same person I was 10 years ago. I'm not the same person I was 3 years ago. But I forget she isn't either. I forgot to write home because I was too busy being at home. How was she changing? What did she think of all this? What lights her heart up now? No man is an island, and no woman is a lake. They're rivers, always there, but never the same water flowing in that same spot. 
I'm so familiar to my wife, I'm foreign to her. And likewise with her. 
10 years later, I'm trying to impress the 21 year old version of my wife, Striking out hard and hating her for it. She isn't even attempting with me, there's too much puke, too many butts needing wiped and someone has tears streaming down their face. Someone is always crying. So logic has confronted me with this ultimatum of human exchange. We change over time, and how we feel as well. What worked 10 years ago, won't work today... What worked yesterday won't work today. I hear break ups chalked up to "I just don't feel the same." Of course you don't. That's not possible, that's not an option. Grandma doesn't feel like a prom queen anymore. Your wife doesn't feel like a little girl, giggly you talked to her. 
So is "till death do us part," even possible. Are we just fooling ourselves because we've been top of the food chain too long? Should we just stay away from each other, then go in rut every fall and spring, fight each other and the women will wait to see who kills who. Can we stay together, and not just for the kids, but because we're in love. Not the same love, but love, ever changing, ever flowing, day to day. 
Fishing guides make money because they know how to catch a fish everyday, no matter the conditions. Idiots in the outdoor isle at Walmart say things like "use watermelon shads." The real deal's, the ones you hand wads of cash to, to put you on fish, know the situation is fluid. The moon, the tide, the temperature, the sun, the clarity of the water. All are playing a factor to where the fish are. We're that idiot in the isle for each other. "I'll get her flowers, rub her back." "He likes going to concerts." Then dumfounded on the shore line, suddenly find ourselves "skunked." What used to be a sure thing, sends us home empty handed. 
We have to know the daily conditions. How do we do that? You ready? Ask. Ask your spouse "where are they right now?". "Is this working?" It's gonna take some practice to not lie to each other at first. It's going to take time to get over the trauma when you start telling each other the truth. But after that... You start plotting waypoints on each other's maps, you'll start finding where they went to hide. And why they went there. But it's work. Like the guide getting the boat in the water the 100 mornings you were in bed. That intellectual capital of fish behavior and conditions came with a great price... Time, effort and communication. 
Knowledge of her heart, or his heart is the product of hard, hard, endless work. 
Stop being surprised things change. Take what's not working seriously, but not personally. The water's just different. The greatest problem with communication is assuming it 
happened. Don't get tired of chasing her, chasing him. Don't settle for cordial. Peace without resolution is endless conflict. Rip off band aids. Air out old wounds. Say what you mean, then ask your self why you meant it. Fell in love is past tense. What now?